IEEE Social Implications of Technology Society Japan Chapter (SSITJ)
---
News
IEEE Conference on Norbert Wiener in the 21st Century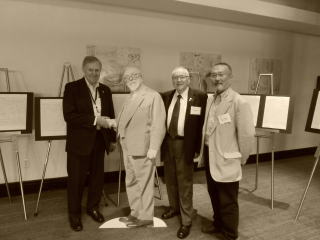 Left to right: Dr. Peter Staecker(IEEE President 2013), Dr. Norbert Wiener, Dr. Arthur Winston(IEEE President 2004), Dr. Shiro Uesugi(IEEE/SSITJ Secretary 2014)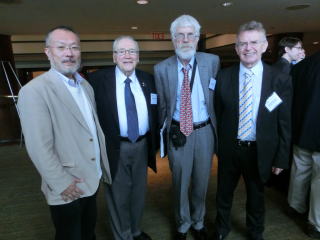 Left to right: Dr. Shiro Uesugi(IEEE/SSITJ Secretary 2014), Dr. Arthur Winston(IEEE President 2004), Dr. Ted Kochanski(Boston Section Co-Chair IEEE Boston), Dr. Greg Adamson (General Chair, IEEE/SSIT President 2015, The University of Melbourne)
---
Announcements
IEEE Conference on Norbert Wiener in the 21st Century
IEEE Conference on Norbert Wiener in the 21st Century ? 'Driving Technology's Future' was held on 24-26 June 2014 in Boston MA, USA.
For details about, Norbert Wiener, the Conference and registration, please visit: http://21stcenturywiener.org/
In the conference, words and ideas were exchanged between Chapter Chair Phil Hall and Secretary Uesugi. Strengthening the Mutual Collaborations among Chanpters of Asia was confirmed.
---
Awards
IEEE/SSITJ 2012 Awards went to
Ms. Vanessa Rocio Bracamonte Lesma
(Ph.D. Candidate at National Institute of Informatics).
Paper tile: "Feedback and Trust-related Factors of Consumer Behavior in Cross-Border Electronic Commerce"
---
Officers (2014-2015) and contact points
Chair
Fumito KUBOTA
Telecom Engineering Center
7-2, Yashio 5-chome, Shinagawaq-ku,
Tokyo 140-0003 JAPAN
Tel:03-3799-9033
Vice-Chair
Hitoshi OKADA
National Institute of Informatics
2-1-2 Hitotsubashi, Chiyoda-ku,
Tokyo 140-8430 JAPAN
Tel:03-4212-2547
Secretary
Shiro UESUGI
Faculty of Business Administration
Matsuyama University
4-2 Bunkyo-Machi Matsuyama City,
Ehime 790-8578 JAPAN
Tel:089-926-7647
Treasurer
Takushi OTANI
School of Social Sciences,
KIBI International University
8 Iga-Machi Takahashi City,
Okayama 716-8508 JAPAN
Tel:0866-22-9386
---
Past-Chair
Masao KASAHARA
Osaka Gakuin University
2-36-1, Kishibe-minami, Suita-ku,
Osaka 564-8511 JAPAN
Tel:06-6381-8434
Yukiyasu SUGURI
(Former Official at Radio Research Laboratory)
1314-4 Hirai, Hinode-machi,Nishitama-gun,
Tokyo 190-0182 JAPAN
Tel:042-597-0659   Fax:042-588-7021
E-mail: suguryuki@ieee.org
Hiroyuki INABA
Faculty of Engineering and Design
Kyoto Institute of Technology
Goshokaido-cho, Matsugasaki, Sakyo-ku,
Kyoto 606-0962 JAPAN
Tel:075-724-7499