第34回IEEE CPMT Society Japan Chapter イブニングミーティング
34th IEEE CPMT Society Japan Chapter Evening Meeting
(開催報告)



主催: IEEE CPMT Society Japan Chapter

日時:2016年12月2日(金) 16:30 - 18:30
(受付開始 : 16:15)

場所

東京大学本郷キャンパス 工学部14号館142号講義室





会場アクセス

http://www.u-tokyo.ac.jp/campusmap/cam01_04_15_j.html







プログラム



■ 16:30 - 17:30



革新的医療の実現に向けた外科用接着剤の開発
Development of Surgical Tissue Adhesive for Innovative Medical Care





講演者:田口 哲志(国立研究開発法人物質・材料研究機構)


Presenter: Tetsushi Taguchi (National Institute for Materials Science (NIMS))





概要
 外科用接着剤は、生体組織間の吻合部における漏出物防止、肺からのエアーリーク防止等、外科手術において頻繁に使用されている。現在臨床で最も使用されている外科用接着剤は、ヒト血液由来成分を用いたフィブリン系であり、国内における使用割合は約70%を占めている。フィブリン系接着剤は、トロンビン、カルシウムイオン、第13因子存在下におけるフィブリノゲンのフィブリンへの重合反応によりゾルからゲルへ変化する。この重合反応は、生体内の血液凝固プロセスと同様であるため、生体親和性に優れ、汎用性が高いという特徴がある。しかしながら、組織接着・シーリング効果という観点では、血液や浸出液の生じる湿潤環境において生体組織に対する界面強度が十分でないため、効果的なシーリング効果が得られていない。また、フィブリン系接着剤は、精製技術が確立されているとはいえ、ヒトの血液が原料となっているため、C型肝炎、HIVウイルス等が混入する可能性を完全に否定できないという課題もある。本講演では、生体組織に対する浸透性を付与した疎水化ゼラチンと臨床使用実績のある生体親和性架橋剤を用いた外科用接着剤の機能と応用例について紹介する。
Abstract
 For the treatment of pulmonary air leaks and anastomotic sites between living tissues, surgical tissue adhesives/sealants have been widely used in clinical field. Fibrin glue is a typical adhesive which consists of human blood components and has excellent biocompatibility and versatile, however, it does not possess sufficient adhesive/sealing effect because of its low interfacial bonding strength to tissues. Therefore, the molecular design of a tissue sealant is required for the sealant to adhere onto a living tissue and organs under wet environment during surgery. Therefore, we designed hydrophobically-modified gelatin (hm-Gltn) and used as one component of a tissue adhesive. Using the hm-Gltn, we evaluated the effect of hydrophobic groups on bonding strength by combining with biocompatible crosslinker. Furthermore, quantitative analysis of resulting tissue adhesives was performed using nuclear factor-kappa B (NF-κB)/luciferase transgenic (Tg) mice. The modification of hydrophobic groups in Gltn molecules effectively contributed to the enhancement of peeling strength after application on vascular tissues. The highest peeling strength of hm-Gltn based adhesive was significantly higher than that of commercial adhesive. The expression level of inflammation transcription factor NF-κB with hm-Gltn based adhesive was notably low compared with that of commercial adhesive after subcutaneous implantation in Tg mice. These results suggested that hydrophobic groups effectively enhance tissue penetration resulting in increased bonding strength of tissue adhesive without a negative effect on biocompatibility.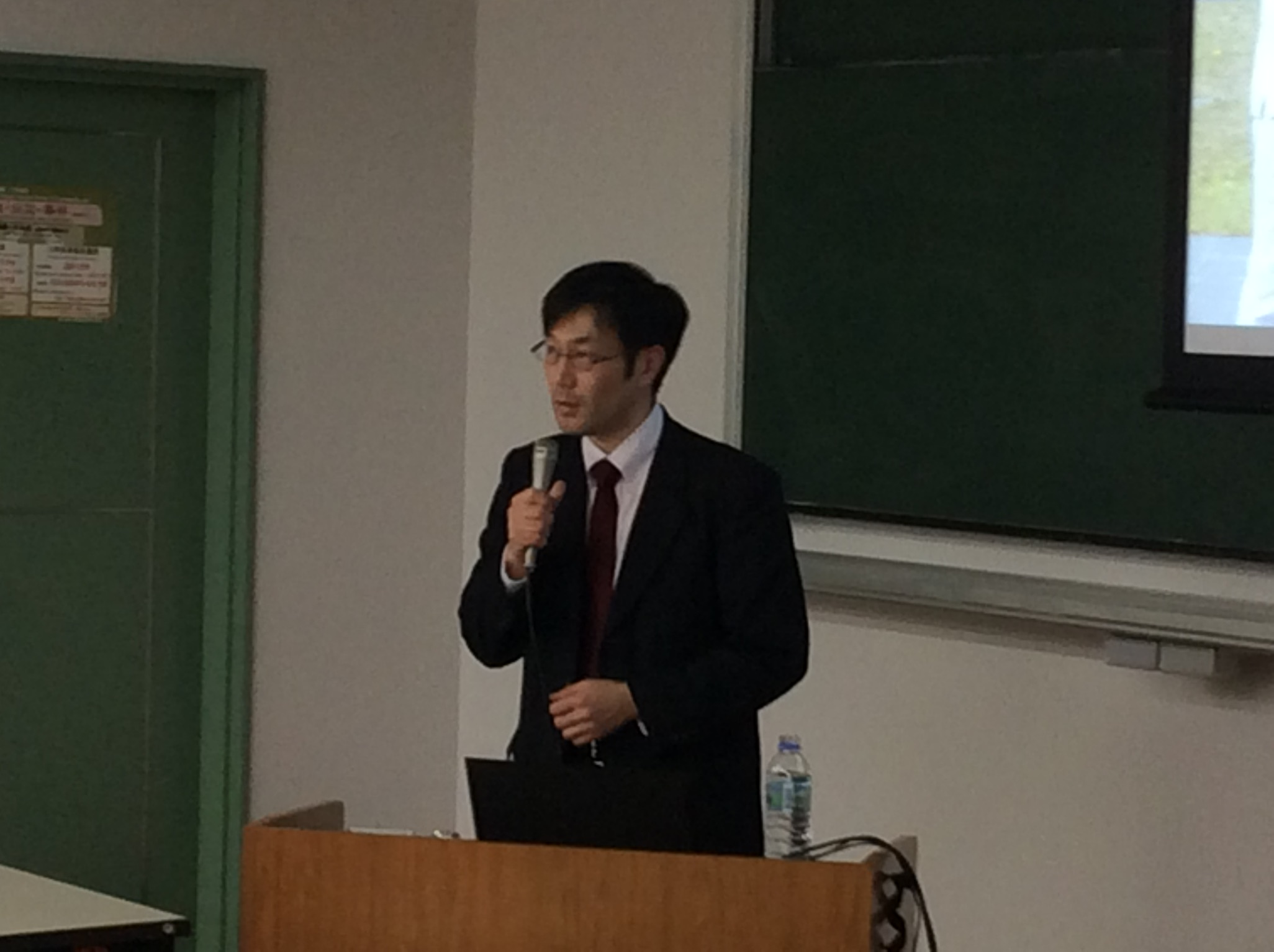 ■ 17:30 - 18:30



酸化亜鉛粒子のソルボサーマル合成とガスセンサへの応用
Solvothermal Synthesis of ZnO Particles and Gas Sensor Application





講演者:斎藤 紀子(国立研究開発法人物質・材料研究機構)


Presenter: Noriko Saito (National Institute for Materials Science (NIMS))





概要
 エチレングリコールを溶媒に用いたソルボサーマルプロセスによる酸化亜鉛粒子の合成について講演する。c(+)面を底面にしたピラミッド型酸化亜鉛ナノ粒子および、それらのナノ粒子が中心から放射状に配向積層した球状粒子を合成し、ガスセンサデバイスを作製し、形状と特性の関係について議論する。
Abstract
 Solvothermal synthesis methods, using a mixture of ethylene glycol (EG) and water as the solvent, of ZnO spherical particles are reviewed. The preparation conditions and the nano structures are summarized and the microscopic characterization of the hierarchical structures is explained. The application of the ZnO powder to a gas sensing device for volatile organic compounds gases is discussed.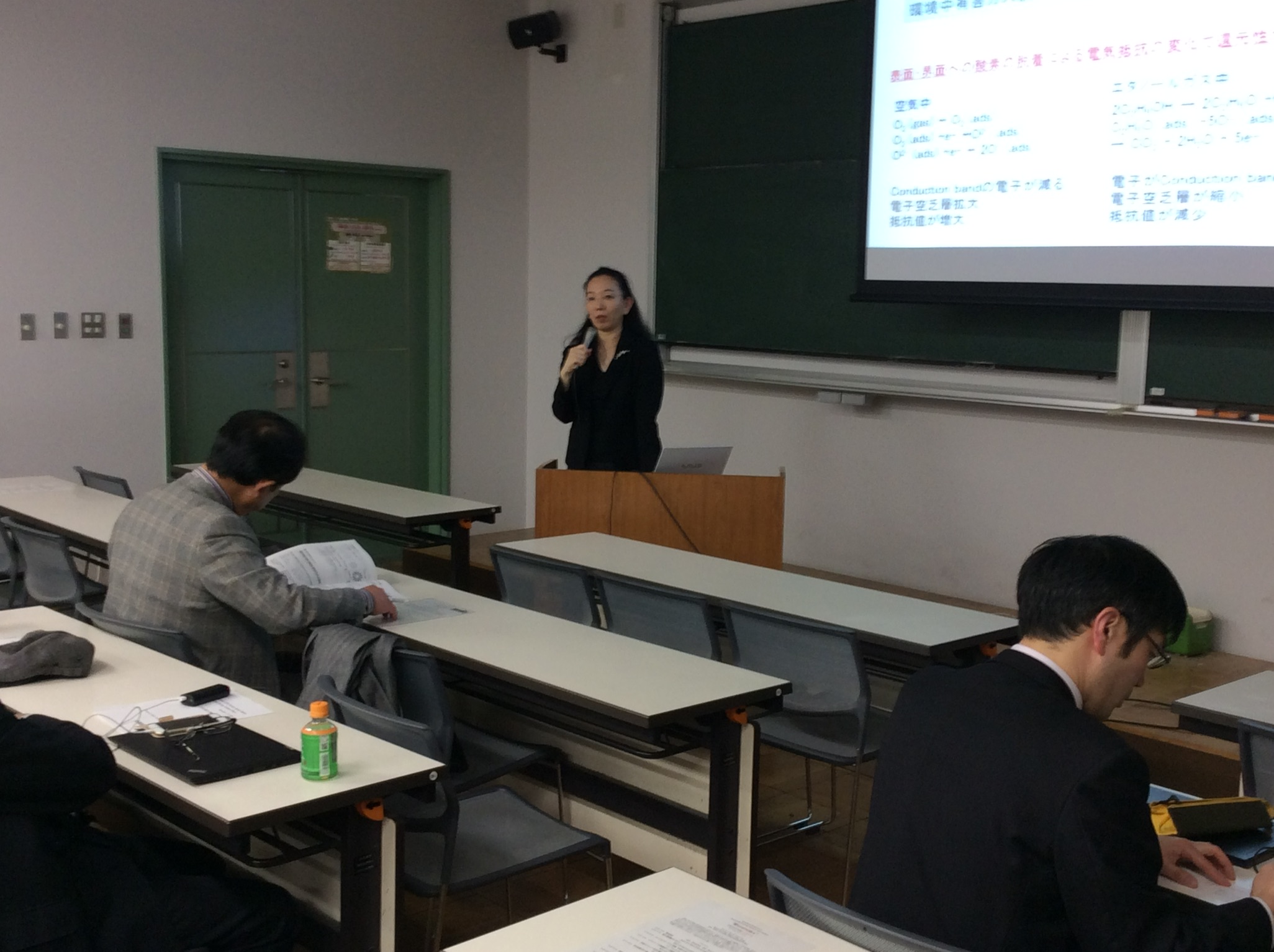 活発な議論が行われました。 




Copyright(c) IEEE CPMT SOCIETY JAPAN CHAPTER, All Rights Reserved.