Tour to a disaster area (August 29th)
Tour to a Disaster Area, Ishinomaki City
A tour of an earthquake disaster area, Ishinomaki, is scheduled on August 29 as the final event of the conference. We hope every conference participant will join the tour. This will be a valuable experience for all of the participants to learn the reality of the Great East Japan Earthquake and the associated tidal wave (tsunami) attack.
Note that tour fee is included in the registration fee and no additional expense will be requested.
We take a sightseeing bus to Ishinomaki. It will take about one and a half hours from the downtown Sendai City. The tour bus will leave from the Katahira Campus* of Tohoku University at 10 am. It is located about 20-minute walk from the hotel area of Sendai. You may enjoy walking to the campus but alternatively a tour bus will pick you up in front of the Metropolitan Hotel at 9:30 am. You will be able to see a disaster photo exhibition at a near-by campus building before the departure time to the tour. The tour bus will go along the coast line of Sendai Bay through Matsushima, which is composed of some 260 tiny islands covered with pines and well known as one of the Three Views of Japan. After the lunch, we will go to Ishinomaki City where many buildings were swept up by the tsunami. We will also visit Onagawa Town, another city hit by the massive tidal wave. We are planning to come back to the Sendai hotel area around 4:30 pm.
*Katahira Campus is different from Kawauchi-North Campus, the conference venue.
See http://www.ieee-jp.org/japancouncil/r10-htc2013/images/univ_map.pdf
http://www.ieee-jp.org/japancouncil/r10-htc2013/images/katahira_map.pdf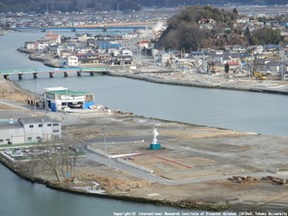 Photo of a towhead in the Kitakami River in Ishinomaki City. There were many buildings including shipbuilding dock but almost all buildings have disappeared.
(Copyright © 2012 Michinoku Shin- Roku- Den)