IMFEDK 201
7
Registration


Online registration is now open. Deadline: 17:00, June 23 (JPT)


Welcome to the IMFEDK 2017 online registration. We strongly recommend Pre-registration, to get technical digest and/or tutorial text timely.
Please fill up the " 2017_registration_form.xls", and send it to the following IMFEDK 2017 Executive Committee mailing address as an attached file through e-mail:

mnishihara(at)ieee.org - Please change (at) to @

Thank you for your cooperation.

Additionally the onsite-registration will be also available June 29 and 30.
Payment for the "online" and "onsite": in cash (yen) only at the registration desk onsite.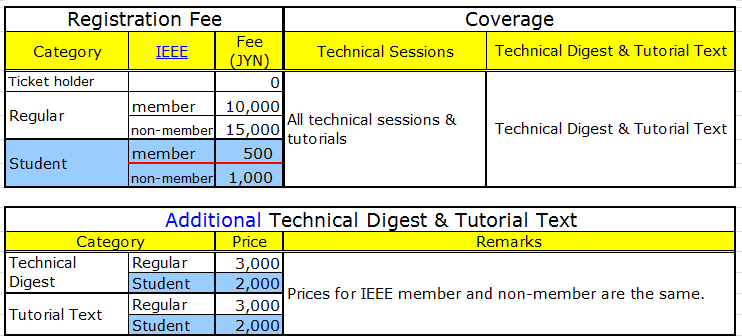 Join IEEE!
Advantages: cheep registration & eligibility for Awards
Membership due for student is only $27.00.
You can be a member right now!

[ご案内(in Japanese)]

(1)オンライン登録をお薦めします。論文集の入手確保。
申込み用のエクセル・シート(上記の "2017_registration_form.xls" をクリック)に記載しメール送付。
支払いは当日受付デスクで現金にて。

(2)IEEEへの入会をお薦めします。参加登録費に特典!
IEEE系学会(含IMFEDK)のAward対象資格。
学生会員費はわずか3,000円ほど(為替レート依存)。
入会手続きはWEBにて。(上記 "Join IEEE!" をクリック)